Well over at
Addicted to Stamps
The Mahoosive Blog Candy is nearly up, so as there's only a few entries, hehehe, I thought I'd have a go! I haven't got a Texture Boutique :(.....Yet, lol.
So My Card first, the important bit, then the rules, okay?
I bought this image from the
Scrapbook Stamp Society
, and she has sat on my desktop, quietly waiting until the kerfuffle with the PC died down to a dull roar, and she could make herself heard.
Well today it quietened down a bit, well okay today I have had enough of messing with the PC if truth be told, and some me time was in order!
So Digi by Nina Bolen, Water Fairy On Moon.
Promarkers, Pine, Forest Green, Lime Green, March Hare, Red, Ruby, Ginger, Pale Blue.
Gold and Red Imagination Sparkle Medium.
Pearlescent Navy Card stock.
Acetate.
Clear Gems.
Crafts Concepts Funky Poinsettia embossing folder.
I coloured the digi first, and used a second copy as a stencil for the Imagination Sparkle Medium to do the moon.
I used some acetate and traced the wings with a black Promarker, as it is Alcohol based, it wont rub off Acetate when its dry.
then turned it over and coated the back with the red Sparkle medium, and set it aside to dry for a bit.
In the meantime, I cut two 5 1/2" circles in Pearlescent Navy card stock, and embossed one piece with the Funky Poinsettia folder on my Happy Cut. I scored 1.5cms in from one edge of the other circle, to create a score and stick line so the card blank, was ready to go. But I did trim the lower edge, otherwise it would have been a rolling card, and a very dizzy Fairy!
Then I simply removed her arm, from the background and slipped the wings in behind, over her real ones, fixing them in place with some Silicon Glue.
Then as its a pearlescent card, I used more silicon to mount her and the tiny dragon to the front of the Card. Next up was the finishing touch of adding tiny gems for stars, in the centre of each Poinsettia.
Now to the rules:
*Win a Brand New Sizzix Texture Boutique!*
Only 2 Rules
2. Use any of our digis or clear stamps found at
www.scrapbookstampsociety.com
to make a card or project and post it to your blog linking back up to ours.
3. Post our Blinkie on your blog, leave a comment that tells us that you did.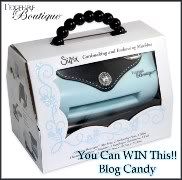 4. Make more cards. For every card or project you make with a differentScrapbook Stamp Society...Digi or Rubber stamp, you have an extra chance to win.
5. Have your friends come follow our blog and let us know who sent them in a comment.
Now I'm off to post my card,
and I hope some of you will have a go.................erm no actually I dont 'coz the less of you who enter the better my chances are!!!
Have fun, and do give it a go, there's some YUMMY stamps in the shop,
xxx
Lou
I am entering this in the Following Challenges:
http://tuesdaythrowdown.blogspot.co.uk/
Use some Sparkle
http://shoppingourstash.blogspot.co.uk/
Starts with a B, Blue and Bling!! Challenge 49
http://scrap-creations1.blogspot.co.uk/
It's a Girl Thing
http://digitaltuesdaychallenge.blogspot.co.uk/
Winter Blues, Blue base card. Oh and wings behind the glittered acetate!